David Nelson , MD
Private Practice, San Francisco
Webmaster, eRadius
Associate Editor, J Hand Surgery
Director, San Francisco Bay Area Hand Club
The patient is now 18 months after his injury. He is back at work and recreation, but not his motorcycle. His CRPS II is now almost fully resolved. He is off all Neurontin, but has still has some odd feelings in his feet and his right hip area, with some odd tingling in his median nerve distribution. However, his light touch sensation is normal, there is no vasomotor instability, no swelling, no allodynia. He lacks less than a centimeter of full composite finger flexion and has full finger extension except for a 20 degree flexion contracture of his index finger DIP joint if he is in wrist extension. His wrist ROM is F 90/48, E 60/34, S 75/45, P 70/60. He developed heterotopic ossification between the radius and ulna 8 cm proximal to the joint, but the bridge failed to unite and has not changed in 6 months. Given his great S/P, I have not recommended resection. The fractures are healed and there is no sign yet (it is early) of degenerative joint disease.
The patient knows that he is lucky to be alive, and he tries to live each day knowing that. He brought me this picture of himself at 18 months: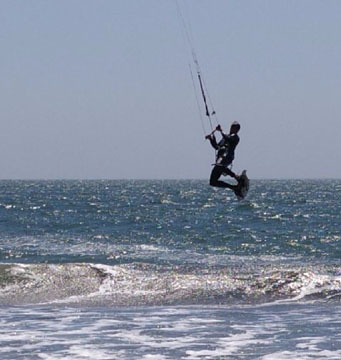 We sometimes forget the other details of significant illness, but his marriage survived and is stronger than ever (I was counselling them thorough his illness regarding the effects of serious illness on a relationship). His children, now in 6th and 11th grades, are doing well (they were devastated previously, as their father was going through such pain and misery; I was in their home, I saw their fear). Don't forget the patient behind the fracture. You could win the battle and lose the war.